September 20th, 2012 | Published in Monthly updates
We are exhausted after the exciting events of the last month, having taken LBC to Los Angeles and Seattle and had friends table for us in Victoria and Minneapolis. Thanks to our friends we are able to travel far beyond what we are physically capable of. Friends!
This month we are introducing a new imprint along with our September title. The imprint is called Repartee and will be comprised of new theory, history, and other intellectually-challenging material. The Repartee imprint will be distinguishable from other LBC Books imprints because of its simple and elegant presentation and challenging content.
We are proud to announce the publication of our friend Duane Rousselle's book After Post-Anarchism a critique of post-anarchism. This book takes post-anarchism to its limit through a reading of the philosophy of Georges Bataille, a philosophy that allows for new ways of conceiving anarchist ethics not predicated upon essentialist categories, foundationalist truth-claims, or the agency of the subject in the political context.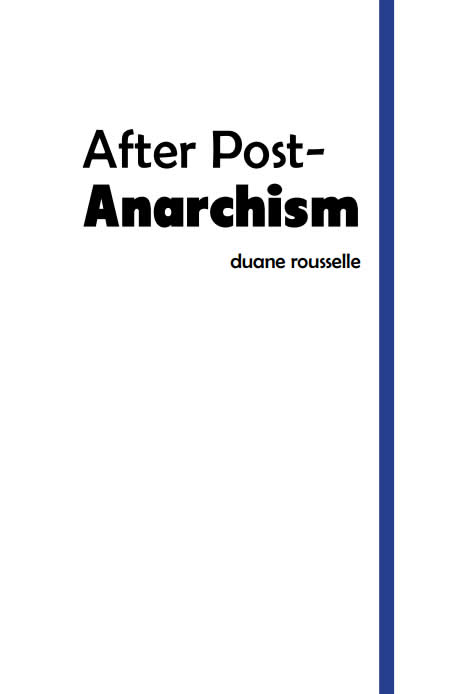 Here are our five (other) most recent titles
Anarchy 101 – Anarchy 101 – This book derives from the website of the same name (http://anarchy101.org) and introduces the reader to a conversation about the possibilities of anarchy. Anarchy is many things to different people: a vision, a plan, a conversation, a process. It is the editor's view that anarchy is best understood, and is most helpful, as a tension, a question, a rejection. This text operates from that premise.
Treatise on Etiquette for the Younger Generations – By Raoul Vaneigem – Vaneigem sought in his Treatise on Etiquette for the Young Generationsto elaborate the subjectively-experienced, phenomenal connections between most of these same aspects of capitalist society. Vaneigem's innovation is the systematic description of these same developments from the other side, the side of lived subjective experience in everyday life: phenomenal descriptions of humiliation, isolation, work, commodity exchange, sacrifice, and separation he has himself undergone or suffered, which help readers interpret their own experiences similarly.
Crime Thought – by Alden Wood – This text is a collection of essays analyzing the theoretical underpinnings to CrimethInc. explicitly as a project of anarchist thought. These essays are intentionally disparate in content; the hope is that taken together they ultimately form a critical understanding and interpretation of the thematic tendencies within CrimethInc.'s particular brand of anarchist theory.
Uncivilized: The Best of Green Anarchy – edited by the Green Anarchy Collective – "Conceived from the premise that what the planet needs is fewer 'activists' and more warriors, Green Anarchy was essentially a journal of war—an open-ended Richter scale that charted the civilized-decay curve and chronicled the triumphs and tragedies of anarchist resistance to the World System. Very quickly, it also evolved into a fairly substantive theoretical journal, one that came to reflect the growing edge of the far frontiers of anti-political thought." – From I Suppose It Was Worth A Shot
Theory of Bloom – by Tiqqun, trans. by Robert Hurley – The Bloom is forced to fixate on certain social roles in order to survive. Worker, housewife, professional, student, citizen, all of the roles are but masks, donned and rarely removed. The Bloom must remain positive while wearing these masks, ignoring its own power and sovereignty. "The Bloom is the masked nothing." But underneath the mask is the pure potential of every person.
Other new material
The Broken Teapot – A pamphlet on the weaknesses of most current anarchist scenes when it comes to how to deal with how broken we all are in relationships. Based in personal experience, tackles complicated and difficult issues.
Baeden – This journal of Queer Nihilism critiques Edelman's No Future, reintroduces Guy Hocquenhem, and engages other topics including jouissance, nothingness, revenge, and wildness.
Rolling Thunder #10 – The cover of this long absent publication includes a broken window. A. BROKEN. WINDOW!
Ker-Bloom #97 – A letter to her infant son.
My Own #5 The latest issue of egoist inspired reflections on friendship, language, and reviews.