This month we bring a new process for updating people about what we are working on. We will still issue our quarterly "What's new with LBC" that will be more broadly available (posted to the broad Internet) but for our closer friends (the thousand or so who read our blog and receive our update emails) we will send more frequent (eight times a year) updates about what we are working on.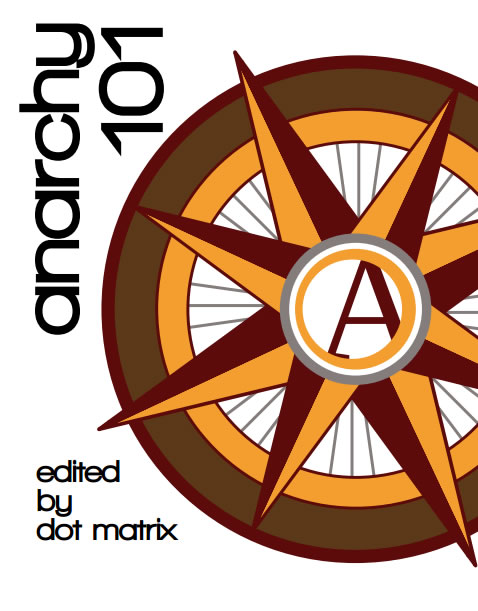 Summer has been relatively quiet in the Bay Area. The Bay has the strange characteristic of being one of the most pleasant places to be during the summer (with a temperate climate that sticks to a median 70 degrees in the summer) but is abandoned by many of our friends who travel around the world this time of the year. As a result fall is usually when excitement fills the air.
We haven't said this explicitly in our "What's new" emails (although we have referred to it) but we produce our own books in our LBC print operation. We are in the middle of a large production cycle because of the FOUR anarchist book events happening around the country. If you are in any of these areas you will be able to check out our newest titles in the following places.
Here are our six newest titles
Anarchy 101 – based on the website of the same name (http://anarchy101.org) this is an unusual thing — An easy to read introduction to the beautiful idea for someone who is not looking for a program. This book reflects the Q&A format of the 101 site with lightly edited answers from dozens of different respondents.
Treatise on Etiquette for the Younger Generations – Our version of the woefully under-appreciated book by Raoul Vaneigem (previously titled in English as "The Revolution of Everyday Life"); our approachable version is intended to reach a broader audience. Jason McQuinn (who reprinted TRoEL in the pages of Anarchy: A Journal of Desire Armed magazine) writes an introduction to the ideas presented in the book. Additionally, this book is a benefit for Long Term Anarchist Prisoners (http://june11.org/) Marie Mason & Eric McDavid whose stories are heart- wrenching and worth learning more about.
Crime Thought – This is a book about the anarchist publishing project Crimethinc that orients the ideas and practice within the larger scope of the anarchist project and provides several clues to the interested reader about how to go from a interest in books like "Day of War, Nights of Love", "Work", and "Recipes for Disaster" into an engagement with the rest of the anarchist canon.
Uncivilized: The Best of Green Anarchy – This collection of the best of Green Anarchy magazine feature the strong condemnation of our techno-fetishistic society and a yearning for an entirely different world. Civilization, Technology, the Left, Resistance, and Decolonization are topics with articles by John Zerzan, Ted Kaczynski, Aragorn!, Dan Todd, Jesus Sepulveda, Ron Sakolsky, Wolfi Landstreicher, Fire, and interviews with Ward Churchill and Godfrey Reggiou.
Theory of Bloom – This short book lays bare our social isolation and the conceptually simple (yet practically difficult) solution to it. This is a foundational text of Tiqqun's thought (the first version originating in the Tiqqun journal #1). This version is translated by Robert Hurley.
Freedom: my dream – The autobiography of Enrico Arrigoni: an Italian anarchist who lived through the Russian Revolution, and who was an anarchist war correspondent during the Spanish Revolution, seeing first hand and reporting on the iniquities of the communists as well as the fascists during that war. Arrigoni's character comes through every page, with humility, humor, a love of life, and a life-long dedication to egoism (a kind of anarchy that was less popular in his day than it is even today).
And here are some titles from our friends that are new
Expect Anything, Fear Nothing – The story about the Scandanavian Situationist International.
My Own – My Own #1 – #4. An egoist newsletter filled with rants, critiques, and new translations from our favorite Vagabond Intellectual.
Elephant Editions – Included the new US publication of Incognito, Locked Up, Simon Radowitzky and the People's Justice, The Anarchist Tension, and Apart from the Obvious Exceptions.