February 19th, 2012 | Published in Monthly updates | 2 Comments
As you may have heard (but probably didn't)…
These are active times at LBC Headquarters. We have transformed our project from a part-time, do-as-we-may, casual distribution project into a full time, agile distribution AND publishing project. We did this with the announcement of LBC Books and our first three published titles.
These titles include the already released Occupy Everything: Anarchists in the Occupy Movement (edited by Aragorn!), the brand new Queer Ultraviolence: A Bash Back! Anthology (edited by Fray Baroque and Tegan Eanelli), and the collected Super Happy Anarcho Fun Pages (upcoming any day now).
Occupy Everything
Anarchists have been part of Occupy since before it was even clearly a movement. This is a book where anarchists, in their own words, express how and why they engaged in Occupy, what methods they used, and how to evaluate the success of Occupy on anarchist terms.
Occupy Everything: Anarchists in the Occupy Movement (edited by Aragorn!)
Queer Ultraviolence
This is a Bash Back! anthology. It takes a peek at the radical Queer tendency and/or (non)organization from 2007 to 2011.
We view queer as the blurring of sexual and gender identities. Queer is the refusal of fixed identities. It is a war on all identity. In line with the Bash Back! tendency, for the uses of this anthology queer is trans because the gender binary is inherently oppressive. We acknowledge that society ensures Queer is an oppressed identity. Anti-Queer oppression is the systematic violence that people who fall outside of traditional sexual or gender categories encounter.
Queer Ultraviolence: A Bash Back! Anthology (edited by Fray Baroque and Tegan Eanelli)
Learn More: Ardent Press – queer ultraviolence
Did we mention that we finally received the second edition of Til the Clock Stops by Ardent Press? We should have.
The texts you are about to read have been collected here in order to tell a story for those of us living in this moment. It is not a story of a new politics nor of a single authorial group, but rather of a position, a position that has spread beyond its origins, and which is being elaborated here and there, there where we dream it most violently, here where we feel ourselves so deperately alone. It is our intention that, read together, they will coalesce for you with ease and clarity.
Til the Clock Stops: crime opacity insurrection
Today we announce our next title (March 2012) which is a reprint of a long out of print title from the other anarchist LBC, the Libertarian Book Club, New York City's oldest continuously active anarchist institution, founded by Jewish and Italian exiles from fascist Europe in 1946. The book is called Freedom – My Dream and is the autobiography of Enrico Arrigoni (aka Frank Brand) an Italian-born anarchist illegalist who lived during some of the most exciting times in Europe of the past century. He was active against communists and fascists before, during, and after wars, news correspondent in Spain during the Spanish Civil War, and was staunch in his beliefs from beginning to end. This autobiography, the story of a life of resistance to church and state, bullshit and fascism, is full of adventure and heart, stories well told from a life rich with adventure, near escapes, good friends, and better enemies.
Along with publishing new titles we are also happy to add to our roster a couple new anarchist publications including the newest issues of the Sovereign Self, Wolfi Landstreicher's My Own, the newest Communicating Vessels, and the newest in Communization theory Communization and its Discontents (a collection of essays) and Sic (the International Journal of Communization and the latest (very beautiful) Anarchist Developments in Cultural Studies.
If you are into back issues of your favorite magazines…
Fifth Estate
Ker-bloom
Anarchy: A Journal of Desire Armed
325
Green Anarchy
We are also just about to release the new version of The Anvil Review (March 2012). If you haven't checked out the Anvil it is a source of review essays on popular and anarchist culture. The new issue will include reflections on Black Flags & Windmills, Firefly, Motorhead, Anathem, working class art, and the Cynics.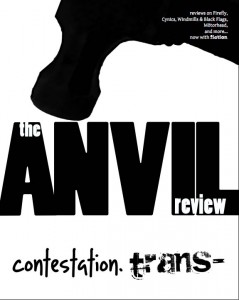 Upcoming Events
You can learn about speakers published by LBC related projects (like Anvil, Ardent, or LBC Books) at the LBC Events Page.
February 20th – Queer Ultraviolence launch party @ Station 40 (SF, CA)
February 21th – Queer resistance in the age of austerity with editors of Queer Ultraviolence in Davis CA
February 25th – Occupy Everything release party @ the Holdout (Oakland, CA)
February 26th – Occupy Everything discussion @ Niebyl-Proctor Marxist Library (Oakland, CA)
Become an accomplice
If you are interested in what LBC Books is publishing or what Little Black Cart is distributing consider becoming an LBC Accomplice.